Reversible Door allows you to configure your dryer so that the door opens in the most convenient direction for your needs and laundry room layout.
Interior Light illuminates inside of dryer when door is opened for clear visibility of contents.
Up-Front Lint Filter allows fast and easy cleaning.
WHERE TO BUY
Specifications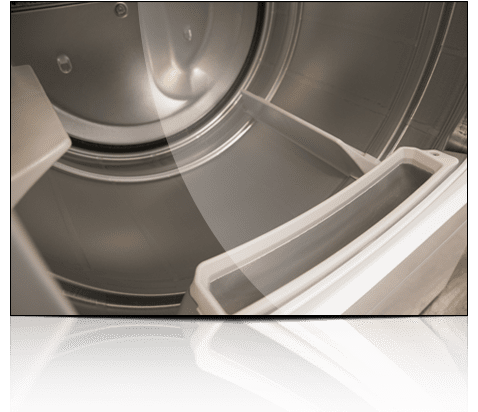 Exceptionally Efficient
Speed Queen dryers feature multiple technologies designed to save energy and money. Our cutting-edge Eco Cycle uses an advanced heating algorithm to conserve energy while achieving an optimal dryness level. Moisture Sensing starts cooling the clothes when the load reaches the dryness level you select, reducing unnecessary drying, lowering utility costs and protecting your clothes—exactly what you'd expect out of one of the industry's most efficient dryers.
Extreme-Tested Electronic Controls
Many washers and dryers have "touch panel" controls. But, none have industry-best warranties backing them up like Speed Queen controls do. Our controls are designed and manufactured to last 25 years and we back that up with rigorous testing to make sure our circuitry stands up to extreme moisture, temperature, vibration and power surges. So go ahead and push our buttons. You'll experience the quality, dependability and durability we build into every Speed Queen machine.
WARRANTY
The Longest Lasting Washers
With a Warranty to Match
The best top load washer on the market also comes with the best warranty. Our 1-year warranties cover all parts. Labor is not included*.
Lifetime warranty outer drain tub and the stainless steel wash basket
*For complete warranty information, please review your warranty bond.
Related Products