Speed Queen® dryers do more than dry your laundry—they dry it to perfection each and every load for the life of the machine. Through special drying cycles, a flawless Axial Airflow pattern and advanced moisture sensing, you can eliminate excessive drying and save money on your utility bill. If you want durability, innovation and perfectly dried laundry the first time, you need a Speed Queen dryer.
Our dryers can also sanitize 99.9% of common household bacteria*
WHERE TO BUY
Find Your Speed Queen
WARRANTY
The Longest Lasting Dryers
With a Warranty to Match
Covers all parts and in-home labor.
Lifetime limited warranty on the commercial steel cylinder and bulkheads against rust or corrosion.
Perfected Drying
Speed Queen dryers deliver a superior dry every time by achieving the ideal balance between drying temperature, airflow pattern and mechanical action. With commercial-grade components like a heavy-duty fan system and an advanced airflow pattern that ensures every bit of warm air enters the cylinder and dries the clothes, Speed Queen dryers deliver the perfect dry, every time.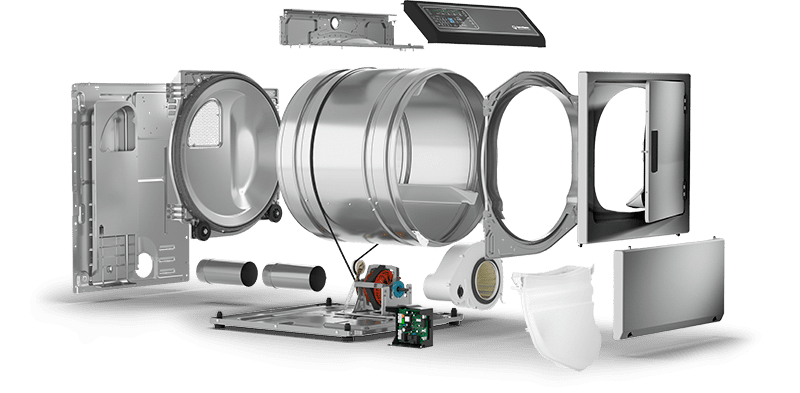 American Quality
Speed Queen washers and dryers are built on the same principles that built America. Proudly headquartered in Ripon, Wisconsin, for more than a century with more than 2,000 dedicated employees and more than 3,200 independent dealers across the country, we're committed to American quality.
LEARN MORE ABOUT AMERICAN QUALITY
*Bacteria tested by an independent lab were Staphylococcus aureus, Pseudomonas aeruginosa, Klebsiella pneumoniae. Dryer must be set to the highest temperature setting and timed dry for at least 75 minutes. Individual results may vary. Learn more here.