Giving loads of laundry love through the holidays
The holiday season is nearly here with its hustle and bustle. Not only is there a turkey to buy, but decorating, gift shopping and wrapping isn't far off. As the holidays approach, there is a laundry list of things to prep … including literally … the laundry. Whether its table linens that need refreshing from their musty drawers or bags of clothes from homeward bound college students to favorite holiday aprons complete with gravy spots, 'tis the season for extra loads of laundry.
It helps to be prepared for the influx of these piles by ensuring you're prepped and organized before, during and after Yuletide. 
1. Avoid the holiday rush
Begin by ensuring all clean clothes are put away and the laundry room is clear of clutter. Then, if you haven't already, get as many loads through the washer before the holidays. Prep tablecloths and napkins using steam – allowing for the perfect napkin fold.
Bedsheets, comforters and towels for visiting houseguests are next. These items are often large loads and not all machines have the capacity. Minimize the number of loads, your time and stress with a 3.5 cu. ft. washer complete with a speed cycle. Once complete, dust and vacuum guest rooms and keep the door closed to minimize wayward dirt, pet hair or children jumping on the bed.
2. Toiling with towels
With your focus on creating happy holiday memories, you haven't time for scooping up post-shower towels. Instead, place a tidy pile of clean towels in each bedroom. This will not only provide guests with what they need, it will gently send a message that this is their quota of towels for the duration of their visit. If possible, consider giving each guest their own color collection of wash cloth, hand towel and bath towel so there's no mix ups.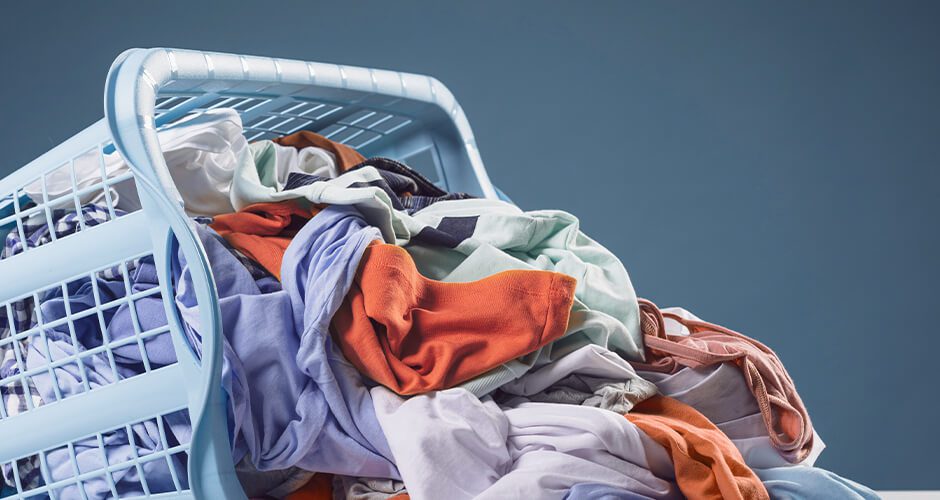 3. Sort dirty laundry first
Get the laundry room ready for college kids slinging bags of dirty clothes as they come home to roost. Provide laundry baskets marked with "whites," "neutrals" and "colors" and have them do the dirty work separating loads before kick-off time.
When you're prepping for holiday shopping be sure to add laundry detergent and dryer sheets to the list, to keep the laundry room running at full capacity. 
4. Don't let stains be the grinch
Pretreating stains from mom's cranberry sauce or the gravy spots on that apron will help minimize laundry maintenance later. Ensure you read the label of the soiled material before taking action. After, gently scrape off excess food residue before treating according to the instructions. 
5. Don't be left holding the laundry bag
As the holiday winds down and guests migrate back to their own homes, don't be shy about letting them help with post-holiday clean up. Whether it's assisting by loading the dishwasher or the laundry, stripping their own beds or gathering used towels, say "yes" to the extra love they are willing to give.
Make the most of the season
Whether it's down to your son's last pair of clean socks, a dirty dog bed or stained potholders, don't let laundry get in the way this holiday season. Use these helpful tips to stay ahead of the piles and free up time to make memories with your loved ones.
Wishing you a time of togetherness filled with family feasts, love, and laughter.