Meet the pet: Lambeau
Our Pet Plus™ cycles project was born out of our team's love of pets and the joy they bring to us each day. Over the next few months, we'll be posting the stories of the pets who inspired the idea. Today, we'll meet Lambeau, a 9-year-old Miniature Yorkie Poo who is easily the most playful pup you'll lay eyes on.
Given his age, you'd think Lambeau would be starting to take it easy, but his mom Aubrey Pollesch says it's just the opposite.
Aubrey, who works at Alliance Laundry Systems as a sales development manager, grew up with dogs and knew she wasn't a huge fan of fur. So, she and her husband went on the search for a poodle mix. When Aubrey and her husband found Lambeau, their family finally felt complete. Lambeau was brought home when he was just a few weeks old and the size of a soda can.
What Lambeau lacks in size (he's only about 8 pounds), he makes up for in personality. Lambeau LOVES to be around his humans and is very playful. Lambeau's favorite thing to do, besides playing with mom, is to play with his "babies" – his stuffed toys.
"I've never met a dog who loves toys so much," Aubrey said. Even when Lambeau's just hanging by himself, he needs to have one of his 'babies' nearby, you know, just in case the opportunity to play more strikes. Just like any other pet product though, Lambeau's 'babies' need to be washed and that's when he gets sassy. At the end of the day though, Lambeau's just a big cuddle bug.
"He will not leave your side," Aubrey said. "Even if you're sitting in a room with 15 places to sit, he'll choose the spot right next to you."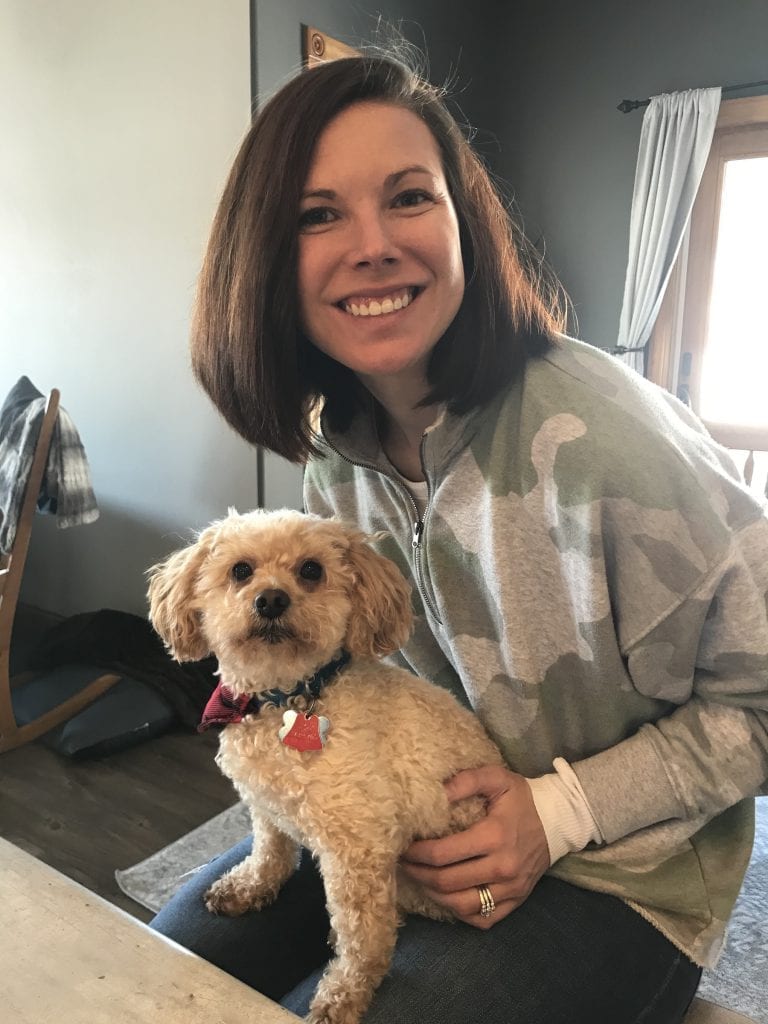 In addition to playing with his toys, Lambeau loves going for long walks, chasing the leaves in the fall, and chasing bunnies and squirrels in the spring and summer.
True to the companion dog he is, Lambeau also became best friends with Aubrey's dad before he passed away. As Aubrey's dad's illness progressed, Lambeau kept a close eye on him to make sure he wasn't alone. They were so attached, Aubrey said, Lambeau even stayed with her dad for about a year.
Small but mighty, Lambeau puts a smile on everyone's face, and the biggest smile of all is Aubrey's.
"He's a small guy with a big personality, and an even bigger collection of accessories," Aubrey said.