Meet the pet: Leonardo and Gus
Our Pet Plus™ cycles project was born out of our team's love of pets and the joy they bring to us each day. Over the next few months, we'll be posting the stories of the pets who inspired the idea. Today, we'll meet Leonardo and Gus.
Leonardo and Gus are two very special members of Katelyn Munroe's family. Leonardo, a 6-and-a-half-year-old cat, was abandoned by his mom at 8 weeks old and was living with a foster family at the time Katelyn first saw his photo. Gus, a 2-and-a-half-year-old chocolate lab, was brought home from a breeder in Clintonville as an 8-week-old puppy. Lucky for these two, Katelyn and family had the perfect furever home just waiting for them.
Leonardo, named after the Teenage Mutant Ninja Turtle character, is the sweetest, furriest, best hugger around, according to Katelyn and her daughter. Whenever you try to pick him up, Leo immediately tries to wrap his legs around you and nestle into your neck. He even sleeps in Katelyn's daughter's room every night.
"She wraps him up like a burrito and he sleeps all night with her like that," Katelyn said. Leonardo will do anything to make you happy, according to Katelyn – he even lets his humans dress him in baby clothes. Described as the most 'carefree cat you'll ever meet,' Leonardo lives his days purring, playing and making others smile.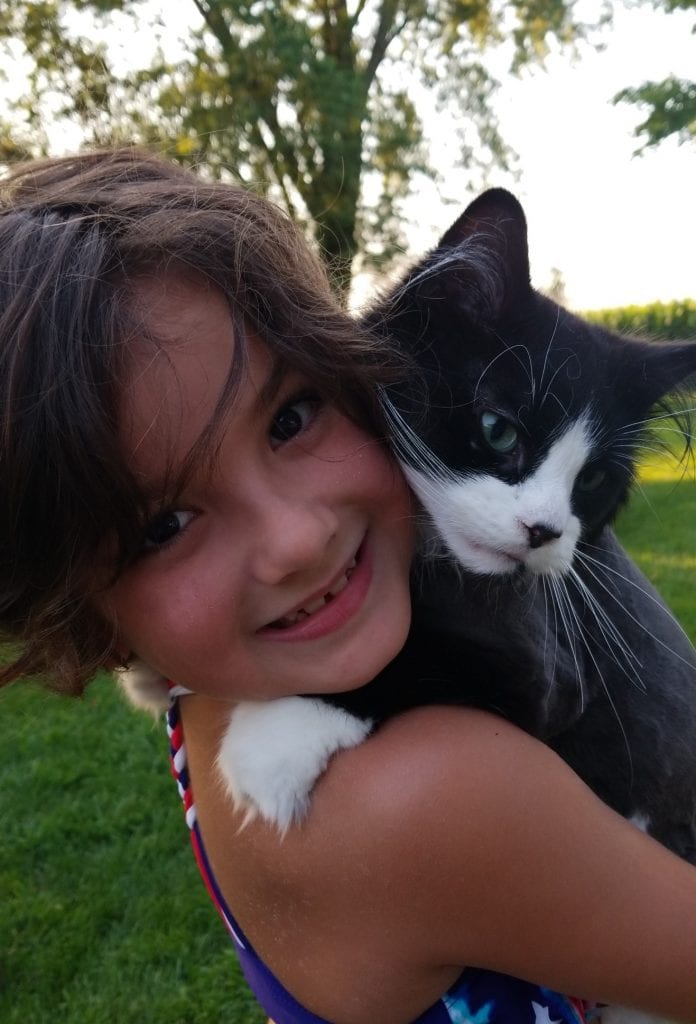 Gus, on the other hand, is best buddies with Katelyn's son. Gus follows the boy everywhere and sleeps in his bed upstairs at night. While his sleeping arrangements are set, Gus enjoys being used as a pillow in many other instances. He's the keeper of the house and even watches over Leonardo. Although he may seem intimidating to others with his deep bark, Gus is one of those dogs who is pleasantly surprising.
"He's like a bull in a china shop," Katelyn said. "He's very protective but he has this goofy, funny side that cracks us up all the time." Gus is really laid back, according to Katelyn, and just wants to be around his favorite people at the end of the day.
While the two are very different in just about everything else, they're a perfect match with the Munroe family. Katelyn, a top load washer auditor at Alliance Laundry Systems, lives on a 160-acre farm with her two children and husband, which offers plenty of room to play (for everyone), but at the end of the day, a good snuggle is all anyone in that family wants.