Meet the pets: Walter
Our Pet Plus™ cycles project was born out of our team's love of pets and the joy they bring to us each day. Over the next few months, we'll be posting the stories of the pets who inspired the idea. Today, we meet a pug with an old soul, Walter, owned by Dustin Smith in our marketing department
Walter's story is different from most rescue animals because he didn't end up in another shelter but at an adoption event in a different state. Walter made his way to Wisconsin after being part of a huge group of pugs rescued from a puppy mill that was shut down. Fortunately, for Dustin, the pug rescue, Homeward Bound Pug Rescue of Oklahoma, that took the group in wasn't able to find homes for all of them.
30 of the pugs rescued by Homeward Bound Pug Rescue were put on Petfinder.com, and immediately after seeing a single picture of him, Walter's owner Dustin filled out adoption paperwork, and was approved. Dustin always knew he wanted a pug and it was absolutely love at first sight.
Before finding his soulmate Walter, Dustin had been looking for a pug to join his home for quite some time, he said. Dustin also knew he wanted to adopt a rescue animal because there are too many animals out there without loving homes. After approval, Dustin drove to the pet store where the pups were being held. "We walked through the doors, and I wasn't expecting what I saw," Dustin said.
Petco cleared out a large portion of their front area and put up a gate. Inside the gate, 30 pugs that the rescue couldn't house immediately were waiting for their new families. Dustin met Walter for the first time, took him immediately to a groomer, and then home. 10 years later, Walter is the most spoiled dog you'd ever meet. It's easy to see fate brought them together because they're two peas in a pod. As soon as they met, they were inseparable. His old soul is the perfect match for Dustin, as the two often spend weekends together lounging around.

"To think how different my life would be if I didn't see this single picture on Petfinder," Dustin said. "I'm obsessed with him."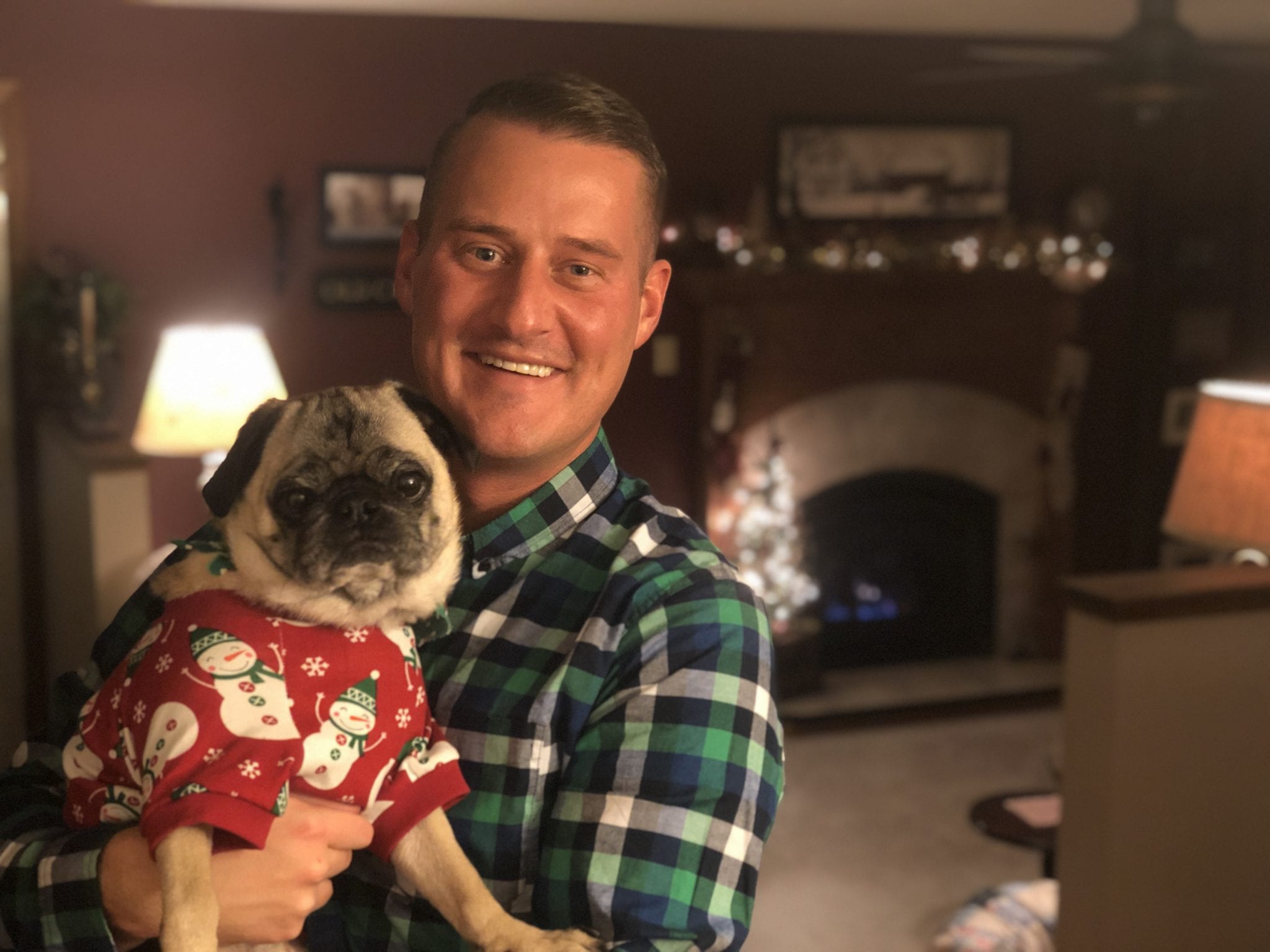 Photo submitted by Dustin Smith, Marketing, Alliance Laundry Systems